Anker PowerCore 15600 is a compact power bank for portable devices. The model provides two USB outputs with a current of 4.8 A. The ANKER PowerCore power bank has an excellent charging speed and a high battery capacity.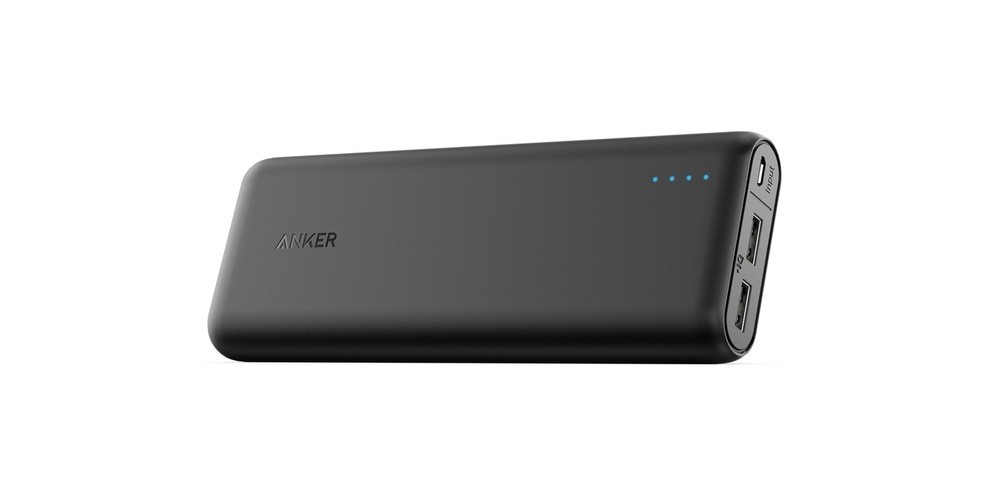 Before purchasing Anker PowerCore 15600, we recommend that you carefully review all of its features. This is necessary to clearly understand the possibilities of the device. If the parameters of this product suit all the tasks, then the next step is to read reviews about it, examine the prices and then choose an online store and buy. Average price: $30.
Design
Anker PowerCore 15600 has a compact size and a convenient shape and fits even in your pocket. You can take it with you on any trip. PowerCore 15600 has the shape of an elongated rectangle with rounded edges. The case is made of durable matte plastic.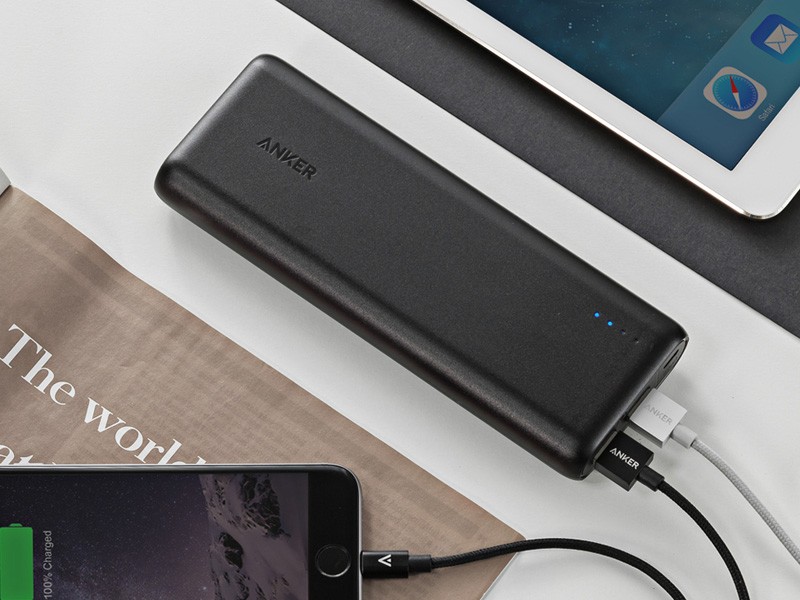 There are LED lamps on the upper part, which are responsible for indicating the level of charge. The model has two USB ports for charging devices and a micro USB port to replenish its own charge. All ports are located on the side of a flat face.
Excellent Charging Speed
The powerful and fastest among all portable batteries the Anker Power Core 15600 mAh power bank is equipped with high-quality and high-technology elements, allowing you to charge your gadget twice as fast as usual, thanks to the iQ 3.0 charge transfer index. Never worry about the fact that you don't have time to charge!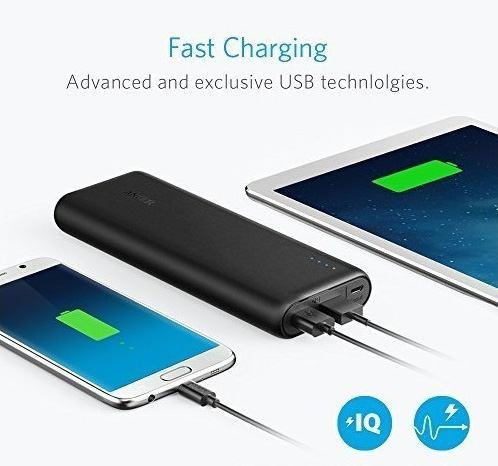 Super-High Capacity
Anker PowerCore 15600 has a capacity of 15'600 mAh, so that this accessory will provide a full charge of various portable gadgets. This capacity is enough to fully charge 5 times the iPhone 6s, 4 times – Galaxy S6, 1 time – iPad Air 2.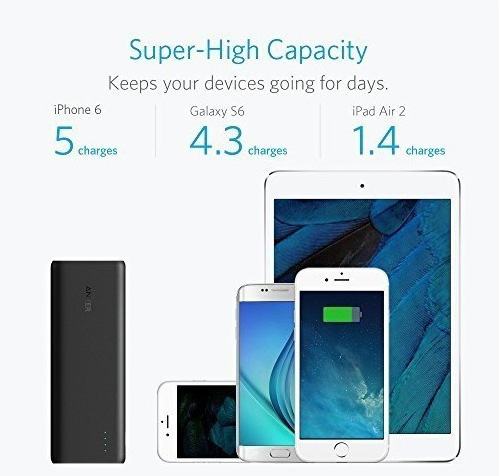 Charging speed and number of complete cycles are calculated individually for each smartphone and tablet. The output power is 4.58 A, which allows charging gadgets twice as fast. No other power bank can boast of such a huge amount of energy placed in a small case. Exclusive combination of technologies PowerIQ and VoltageBoost provides the fastest charging of any device. (Qualcomm Quick Charge 2.0 is not supported, for this Anker offers a 24W PowerDrive + 1 charger).
Improved reliability
The battery is equipped with surge protectors, shock-resistant case, and maintains its performance at temperatures ranging from -40 to +158 F.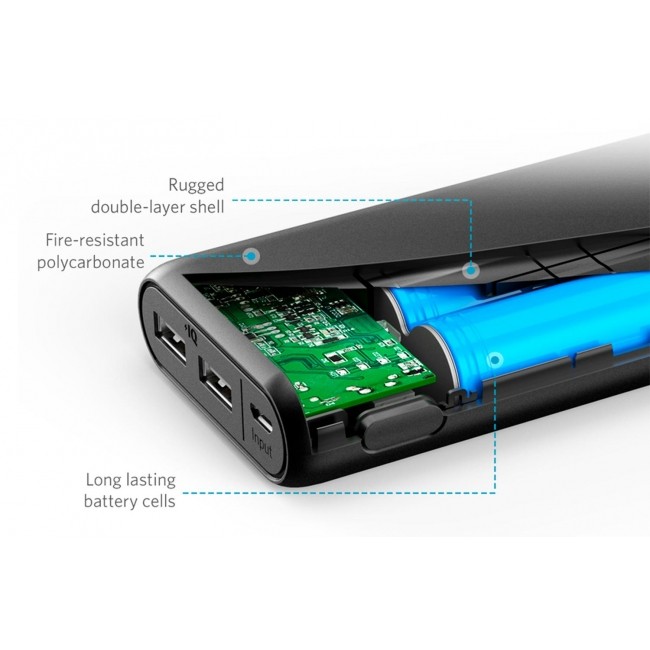 Features:
Compact size
High capacity
Current strength of 8 А
Two USB ports for charging
Compatibility:
Full specifications
| | |
| --- | --- |
| Capacity | 15600 mAh |
| Two devices charge | Yes |
| Laptop charge | No |
| Card reader | No |
| Flashlight | No |
| Solar battery | No |
| Number of USB ports | 2 |
| Universal output jack | No |
| Power-supply jack | micro USB |
| Input voltage (V) | 5 |
| Input current (А) | 2 |
| Built-in battery type | Li-Ion |
| AC adapter included | No |
| Car adapter included | No |
| Apple 8 pin adapter (Lightning) | No |
| Apple 30 pin adapter | No |
| micro USB adapter | No |
| mini USB adapter | No |
| Nokia jack adapter | No |
| Short circuit protection | No |
| Overvoltage load protection | No |
| Overheat control | No |
| Case included | No |
| Moisture-proof case | No |
| Shockproof case | Yes |
| Dimensions (mm) | 166 x 58 x 22 |
| Charge indicator | Yes |
| Case material | Plastic |
| Weight (g) | 341 |
*product information may be changed or updated by the manufacturer without notice.
What's in the box
Anker PowerCore 15600 power bank
Charging cable
Documentation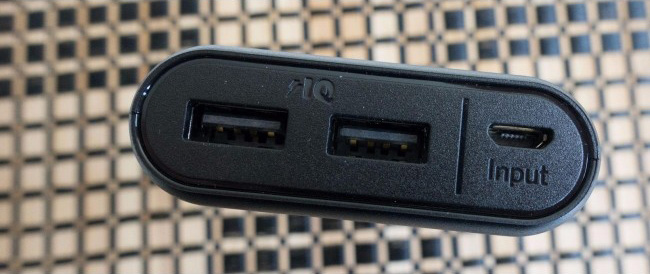 How does it work?
Charge the power bank before use. There is a micro USB cable in the package for this. You can charge the power bank both through the computer and through an ordinary outlet. Then you need to click on the power button and connect your smartphone or tablet to the USB port.
Anker PowerCore 15600 Power Bank Customer Reviews
Mark
100% will buy. Why?
1) This is an American brand
2) The interior of the PB is from Sony (motherboard) and Panasonic (batteries)
3) ! The main argument for me! 50% factory charge of each model of their PB. This ensures the safety of li-ion batteries no matter how long they were stored before purchase without using.
Pluses: Quality
Minuses: No.
Sean
One of the best PB that I had. Working like a Swiss watch every day for a couple of months – there are no complaints at all.
Separately, I want to mention the case – very effectively protects the battery even when it falls and is pleasant to the touch.
Pluses: A super case.
Minuses: No.